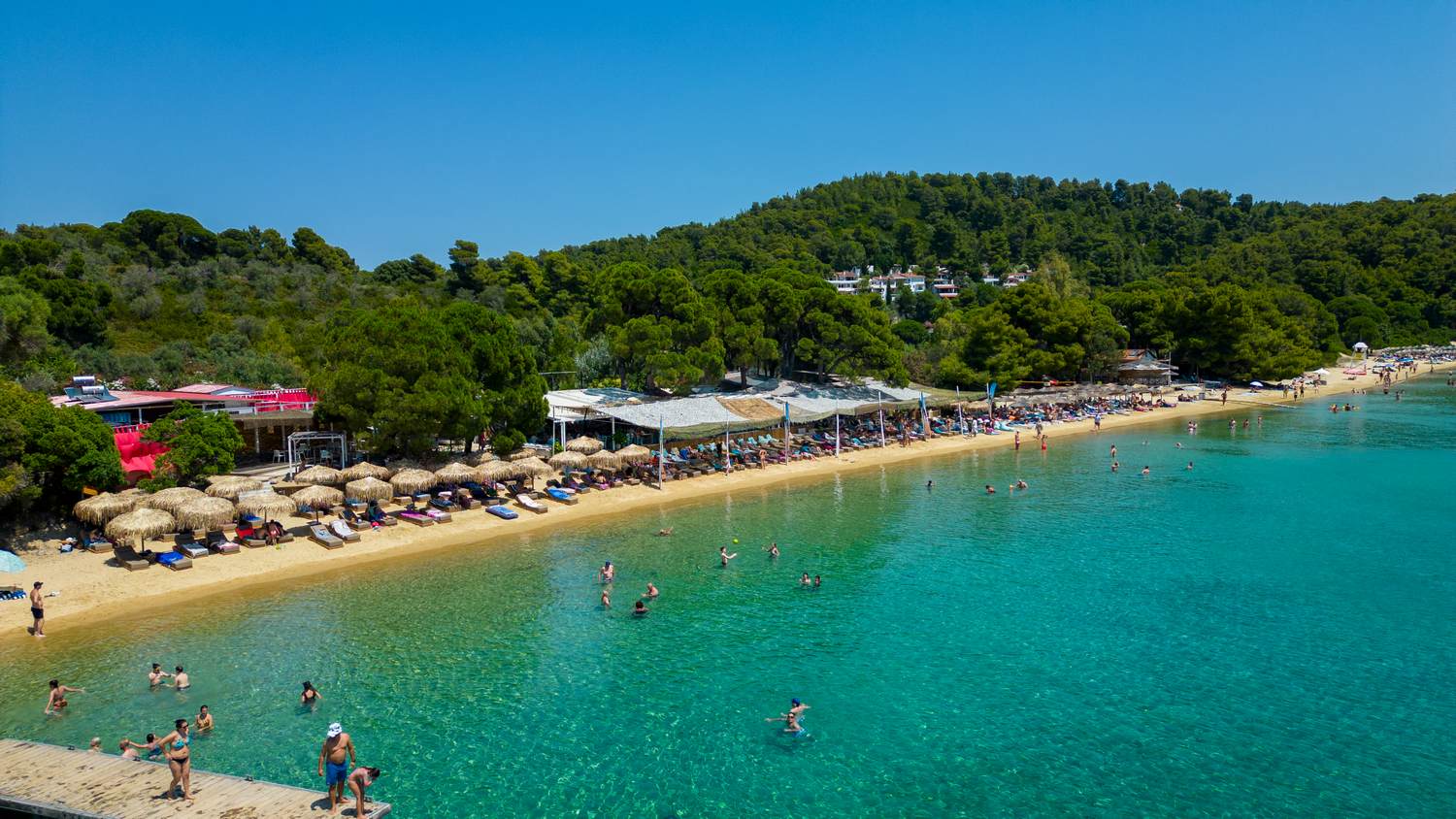 Vromolimnos Beach sits along the idyllic south coastline of Skiathos, with its soft white sand and the turquoise blue waters of the Mediterranean Sea.
The unique sandy beach of Vromolimnos, meaning in Greek "the dirty lake" is located 6 kilometres south-western to the town of Skiathos and very close to the tourist resort of Kolios.
The beach took the name from the small shallow lake that used to be there in the past.
Vromolimnos is considered to be one of the most popular beaches in Skiathos, due to the unique location ,and the facilities provided like umbrellas and sundecks, watersports, restaurant and each bars.
For years Porto Paradiso in Vromolimnos beach has been a hot spot for the majority of tourists visiting Skiathos
Spend a full day on Porto Paradiso in Vromolimnos beach and load your self with energy to last a full year
Vromolimnos beach is located on the south coast of Skiathos 8 km from Skiathos town, with neighboring beaches Kolios and Agia Paraskevi. It is one of the most beautiful bays of Skiathos with clear blue-green waters and fine smooth sand. Vromolimnos is considered the most popular beach after Koukounaries which has been voted as one of the most beautiful beaches in Europe.
The restaurant Porto Paradiso – Bar & Rodi the fashion shop is located on the beach easily accessible by car. Porto Paradiso offers a series of facilities to spend your day and night beautifully!!!
Start the morning with the most amazing coffee, enjoy your lunch in our famous restaurant with the finest ingredients and end your day on the beach with a cocktail watching the magical sunset.